About Zarifa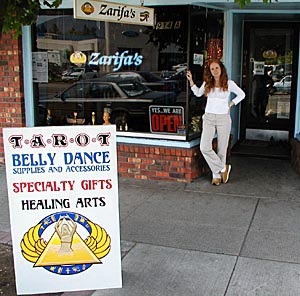 Zarifa's Touch of Egypt was the first metaphysical store in Grants Pass, Oregon, located at 914 SW 6th Street, just north of the Caveman Bridge on the Rogue River. During the seven years she operated the store in Grants Pass, she offered Egyptian decor, Belly Dancing instruction and supplies, unique healing arts supplies, services, and gift items.
Zarifa has had a sensitivity to the energies in the world around us all her life and just assumed everyone had these experiences until an auto accident in 1983, one that presented her with a life-altering near-death experience. Although unclear at the time, the message she received was one about her mother, who was to pass in an auto accident years later. It wasn't until her mother's passing that it became clear she was sent this message for a reason, and that it was her destiny to channel this talent to help those in need around her.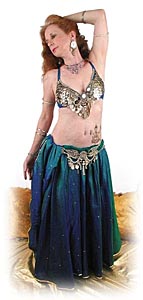 Belly Dancing Instruction and Supplies
Zarifa has been belly dancing for over 15 years and has performed professionally in Reno, Nevada before moving to Grants Pass, Oregon. She teaches classic Egyptian style belly dancing, more attuned to solo dancing as opposed to group dancing. Her store contains a select line of veils, hip scarves, and headdress for her students and the public. More info . . .
---
Zarifa's Touch of Egypt · Boise, Idaho 83646 · Contact