Healing Oils and Candle Therapy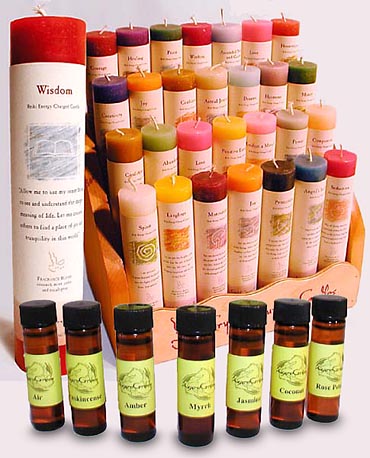 Aromatherapy has always been known to alter one's mood and consciousness. In these workshops, Zarifa helps you focus specific aromas, oils, and candle colors to apply to specific moods or problems.
Healing oils and their empowering aromas can alter your body, mind, and spirit. Zarifa will share which oils contain properties that apply to specific areas of your life for energy healing and improve interpersonal relationships, stress, and overal psychic health. In this workshop she will also discuss how to make your own essential oil concoctions and use them with candle therapy.
As part of these workshops, Zarifa will provide worksheets for reference of various oils and create a personalized oil mixture for each person in the workshop.
Healing oil and candle therapy workshops are $25 per person with a minimum of 5 attendees, and can be performed in your home or at a place of your choosing anywhere in the San Diego area. If you host a healing oil and candle therapy workshop at your home with at least 5 participants Zarifa will waive the workshop fee for the host. Private tutoring is $65 for an hour's session in your home.
---
If you're interested in private or group belly dance classes or learning about healing oils or candle therapy, please contact Zarifa to arrange a workshop.
Return to Workshops and Classes >
---
---
Zarifa's Touch of Egypt · Boise, Idaho 83646 · Contact