Tarot Readings and Tarot Workshops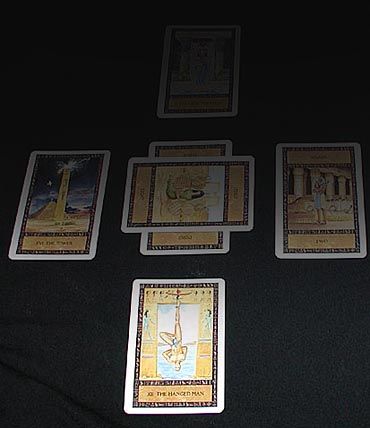 In these workshops, Zarifa will share her years of experience in working with the tarot in a less traditional approach. Instead of referring to books or charts, Zarifa will guide you to unleash your intuitive insight and develop it with the tarot deck's energy. Because the cards retain the energy of those that have held them, attendees are encouraged to bring your their tarot decks to get the most out of these workshops. If you do not have a taro deck, Zarifa will have new untouched decks on hand for purchase.
These are one of Zarifa's most fun and favorite workshops because she has the privilege of seeing attendees discover their own intuitive abilities. She will first discuss basic general meanings of the various cards, then share several methods to obtain the level of relaxation and openness required to be receptive to the energy of the card layout, discovering things that previously couldn't be seen. This discovery will guide you to learning more about yourself, your intuitive skills, and how to apply them in everyday life.
This is a hands on workshop, so many exercises will take place to fully experience the tarot. One exercise will pair up workshop attendees to perform a reading on each other (this works best with complete strangers.) At the end of this workshop many attendees are amazed and inspired with their discoveries.
Tarot workshops are $25 per person with a minimum of 5 attendees, and can be performed in your home or at a place of your choosing anywhere in the San Diego area. Please bring your own tarot decks to get the most out of these workshops. If you host a tarot workshop at your home with at least 5 participants Zarifa will waive the workshop fee for the host. Private tutoring is $65 for an hour's session in your home.
---
If you're interested in private or group belly dance classes or attending a tarot workshop, please contact Zarifa to arrange a workshop.
Return to Workshops and Classes >
---
---
Zarifa's Touch of Egypt · Boise, Idaho 83646 · Contact