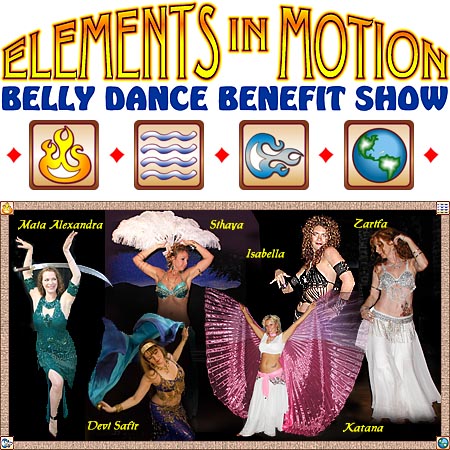 Saturday, Feb 28
Two Shows · 5PM and 7 PM
Zarifa's Dance Studio · 914 SW 6th, Grants Pass
Dance Benefit for the Womens' Crisis Support Team of Grants Pass
Zarifa is celebrating the grand opening of her new dance studio at Zarifa's Touch of Egypt with a premiere show featuring some of the Rogue Valley's finest dancers. The new dance studio is the perfect complement to Zarifa's business and what better way to celebrate than with a belly dance show!
The acts will include sword dancing, drum solo Taqusim, veil dances, and a few props will be incorporated into some of the acts - even a little fire! Between shows the floor will be available for the performers to share their experiences with spectators.
All donations at the door will go to the Womens' Crisis Team of Grants Pass. Show your support for this vital organization and come celebrate with us!
MORE INFORMATION
WHERE: Zarifa's Touch of Egypt
914 SW 6th Street, Grants Pass
WHEN: Saturday, Feb. 28, 5 & 7 PM
ADMISSION: Free, $5 donation welcome
PROMOTE: Download and print the fliers below (PDF files:)
Featuring Performances by . . .
Devi Safir
Isabella
Katana
Lani
Maia Alexandra
Sihaya
Tasseled Camel
Zarifa
The Elements in Motion grand opening show begins at 5 PM with a second show at 7PM. These are not "repeat performances" and the same show, each set features different dancers and different acts, be sure to catch them both!
---
Zarifa's Touch of Egypt · Boise, Idaho 83646 · Contact