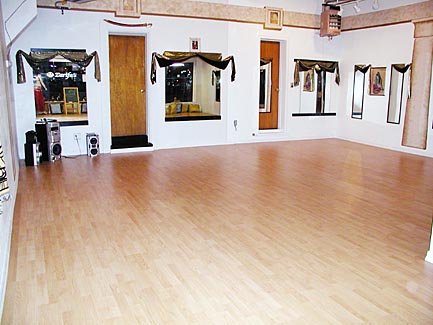 Dance Studio Expansion, January 22, 2009 - Grants Pass, Oregon
Zarifa's New Dance Studio
UPDATED 02-04-09: See new pictures below.
New dance studio now open! Once again a neighboring merchant has moved, providing Zarifa with an opportunity to grow her business. She has moved her retail store into the next suite and converted the existing store and small studio into one large dance studio - in three days!
Some of you may remember the 2006 expansion in which she added a small 300 square foot studio to her adjoining store. The latest remodel began Saturday the 17th, with plans to just remove the wall between the store and the studio. In the following weeks, Zarifa had intended to slowly begin pulling up the carpet and floor and lay in new laminate flooring. With the assistance of a generous friend and his helper, the entire project was complete, start to finish, in three days, all ready for the next dance classes the following Tuesday.
The new studio is a clear 27' X 24' space with two 10' alcoves on either side of the door and over 12' high ceilings, allowing plenty of room for workshops, dance events, seminars, and gatherings. Studio will be open for rent as early as next month, so feel free to contact Zarifa to arrange your reservation!
Although he asked us NOT to, we can't publish this article without a mention of a local construction professional, who we'll only name as "Eric." Eric dedicated his time and skills for three full days completing this project in short order, and we wouldn't have been able to do it without him. In the four years Zarifa's has been in business, we've never received this kind of support and help from anyone and his generosity is overwhelming! If you need work done, we have your man . . . THANK YOU ERIC!
We still need some trim and mirrors, they are on their way, and a little painting to continue the column motifs around the room, but the studio is ready for use. Watch this web site for details on the grand opening dance, which should be sometime in February.
Click any Picture for an Enlargement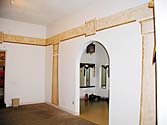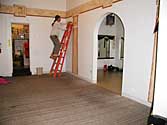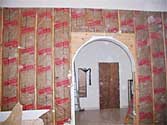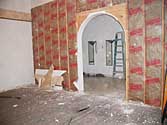 Click pictures for enlargments
Work started at 10 AM Saturday the 17th, sizing up the job, planning the first cut, and pulling off the drywall and insulation. The spots on the pictures are from all the dust, Zarifa's store stock was safely sealed up in the new location next door.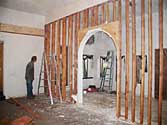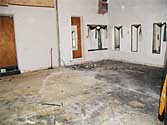 Click pictures for enlargments
Next out comes the wall, then the flooring. We left an 18" header at the top with a narrow shelf for decoration and design. The studio side tile came up easy enough, but the carpet was glued and was no easy task. It's really starting to look BIG!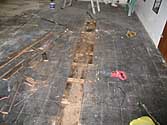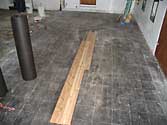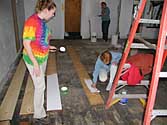 Click pictures for enlargments
Sunday we continued with floor repair, painting, and getting the center header in. This building was built in the 30's, so we're lucky to have only found one spot in the subfloor needing attention. The rest of it was solid. Thanks to Casina and Mary for helping out!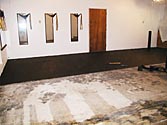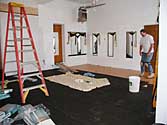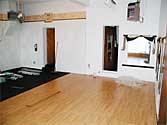 Click pictures for enlargments
Far left was taken about 11PM Sunday night. Clean clean clean, not a speck of dust anywhere, then lay the 15 lb felt for moisture barrier. We finished about 1 AM Monday morning, then were at it again with Eric laying in the floor, the rest of us doing other odds and ends.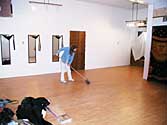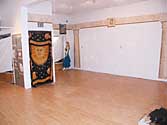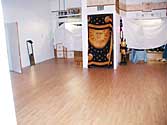 Click pictures for enlargments
Far left, finishing up about 7 PM Monday evening. Zarifa in the picture really gives an idea of the size of the new studio. We still need floor trim, mirrors, and a little more paint, but the studio is ready for class!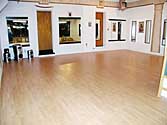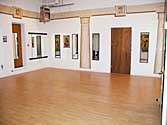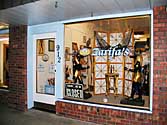 Click pictures for enlargments
Pictures of the finished studio with new mirrors and wall motifs compelete, and a late night picture of the new store location next to the studio.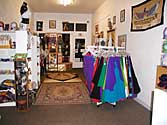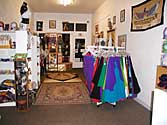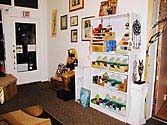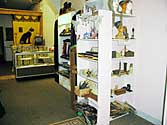 Click pictures for enlargments
The new store location is the same width as the original store, but extends farther back, allowing a lot more room to move around and expand stock.
Contact Zarifa to arrange your reservations for using the dance studio, as we already have immediate inquiries for upcoming workshops and events.
---
Zarifa's Touch of Egypt · Boise, Idaho 83646 · Contact