Elements in Motion Dance Benefit, February 28, 2009 - Grants Pass, Oregon
SEE THE VIDEO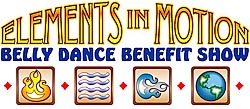 Saturday, Feb 28
Two Shows · 5PM and 7 PM
Zarifa's Dance Studio · 914 SW 6th, Grants Pass
Dance Benefit for the Womens' Crisis Support Team of Grants Pass
03-13-09: Be sure to watch the second video, "Zarifa's Fire Dance," featuring AZPHODEL (Published by permission)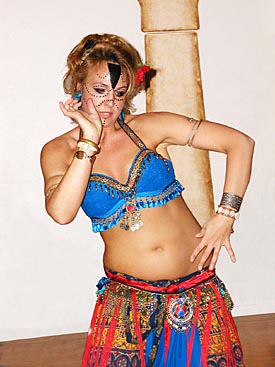 Sihaya, set two, Tribal Style Dance
February 28, 2009: Zarifa's Touch of Egypt hosted a belly dance show entitled Elements in Motion to benefit the Womens' Crisis Support team of Grants Pass, featuring some of the Rogue Valley's finest dancers. Featured acts included Maia Alexandra with a sword dance, Devi Safir with traditional Egyptian style dancing and veil dancing, Sihaya with fan dancing and tribal dancing, Lani with a tribute to Bastet, Isabella with a belly dance flavored with African music and Spanish salsa, Katana with an Isis Wings dance, Tasseled Camel with Egyptian style troupe dancing, and of course Zarifa with a Taqusim drum solo and a breathtaking fire dance using lanterns, not candles!
Click any image to enlarge
Elements in Motion is a celebration of the grand opening of Zarifa's new 600 square foot dance studio. The studio is officially available to rent and there are already bookings in place, including Blade 101: a Sword Belly Dance Workshop presented by Maia Alexandra Saturday, March 7, 2009. Several students visiting this weekend's performance have joined Maia's workshop, so please contact Maia to reserve your spot!
Click any image to enlarge
The evening opened with Zarifa performing a complex Taqsim drum solo, nailing every pop, slap and nuance with professional accuracy, followed by Devi Safir's veil dance to Egyptian style rhythms. Lani, one of Zarifa's former students, made a surprise appearance from San Diego with a sensual dance dedicated to Bastet, both technical and entertaining. Next up was Sihaya, with an eclectic mix of belly dance to oriental music, a reminder of the origins of belly dance as the "oriental dance." She was followed by Idena, Mahara and Zahara of Tasseled Camel. The first set ended in what can only be called a grand finale by Maia Alexandra in a dramatic sword dance, followed by an amazing display of belly work. Maia had a little more in store for us - toward the end of her set she coaxed - nay, dragged - spectators to the floor, inviting them to join in on the joy of belly dance. What a great way to end the first set!
Click to enlarge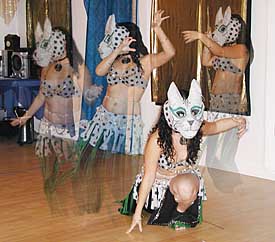 All dancers were called to the floor for curtain call to raucous applause from the audience that crowded the studio, each dancer receiving a single rose from Zarifa. During the space between sets dancers and spectators mingled; drummers tinkered with tablas and awaited the second show. Promptly at 7 PM, Devi Safir started off the second set with an energetic Egyptian style drum dance, followed by a lively Salsa-like belly dance to an African style rhythm by Isabella. Katana dazzled the audience with a beautiful dance with Isis wings; Sihaya performed a tribal-style dance and the ladies of Tasseled Camel entertained us with a well choreographed cane dance.
The lights were dimmed for the grand finale of the second set, an exciting dance of fire performed by Zarifa, but it wasn't a traditional "candle dance." She used genuine oil lamps with wicks, flickering through the darkness with mysterious grace to the esoteric tones of "Live Like a Tree Walking" by Portland's Azphodel (Zane Lazos.) All dancers were called back to the stage for a final curtain call, which somehow metamorphosed into a free-style hafla to basic eastern drum rhythms.
Click any image to enlarge
A lot of wonderful talent came together this evening, and we'd like to personally thank all the dancers and spectators for making "Elements in Motion" a wonderful grand opening event. Zarifa looks forward to seeing you all at the next Zarifa's Community Dance at the G Street Bar & Grill. See you then!
---
Zarifa's Touch of Egypt · Boise, Idaho 83646 · Contact