Community Belly Dance First Anniversary - 03-08 - Zarifa's Events
SEE THE VIDEO
March 2008 Second Sunday

March 9, 2008 Sunday marked the first anniversary of the Second Sunday Community Belly Dance, presented by Zarifa's Touch of Egypt and hosted by the G Street Bar and Grill in Grants Pass, Oregon. Wow, what a show! Everything from tribal dance, sword work, veil dances, and a sais battle dance, to live drumming in one evening.
Videographer: A big THANK YOU goes out to one of Zarifa's student's, Mel, for spending the evening behind our video camera. She shot the entire evening and got almost all of the dancers' full performances. She chose a great angle and captured all of your performances flawlessly. Maybe next month we can get her to dance!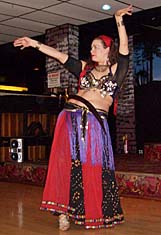 Maia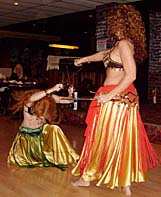 Zarifa & Alisha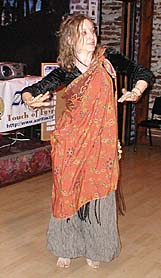 Robyn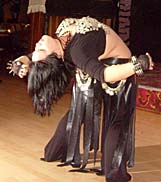 Katarina
Carrie Lynn & Debbie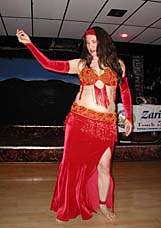 Julie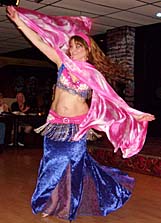 Devi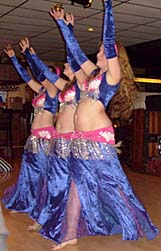 Raqs Aroosh
Spectacular! The pictures and video only give a small insight to the performances this month. It's always an exciting evening seeing everyone's costumes in motion, painting a flowing canvas of movement and bright colors, each giving their own personal touch to the various dance styles. A special thank you to: Robyn & Jon, Katarina, Julie, Aiysha Aroosh, Taroob, Raks Aroosh, Debbie, Carrie Lynn, Mariel, Maia, Devi, Alisha, Christine and Forest, your performances were great and we hope you had as much fun as we did!
Maia's Sword Dance: Maia opens by floating out on the floor sideways, revealing the sword hidden behind her, and dazzles the audience with an impossible-looking belly roll. After a graceful spin balancing the sword on one hip, she brings the sword above her head, then pulls it away with a smile - "HA! You thought I was going to put that on my head, didn't you?" After a spin, she does, balancing the sword across her head while standing . . . and moves into a floor routine, keeping the sword perfectly balanced throughout all the movements.
Most of the time in a sword dance the dancer holds one arm up to help keep the sword spinning with the dance. These things weigh from 3 - 7 pounds, and in accordance with Newton's Law tend to keep moving on their own once you get them going. Maia incredibly comes up from the floor, into a gentle spin, begins a shimmy during the spin, and eventually slows to a stop - without ever once touching the sword. Mad skills!
Alisha & Zarifa have been working on a routine for a few weeks for this month's show. They wanted to try something a little different from traditional dance routines, incorporating sais and a battle theme into their performance. You may remember sais from the movies The Mummy Returns (remake) and Electra, a short narrow sword with curved spikes near the hilt, used in battle with one in each hand.
Zarifa and Alisha enter the floor, in sync with the music, Alisha spinning the sais like a pair of Colt 45's, Zarifa responding with both sword and dance movements. The dance and battle moves through several attacks and rests, the parries accented with the distinct click of metal on metal, with both close and distant attacks, all incorporated into a unique dance with the music. It was an awesome routine, we hope to see it again soon!
Robyn of Mt. Shasta, CA. has been to the Community Dance before, but this time brought her husband Jon to jam some live drumming on his Turkish style Darbuka (doumbek) Some of the Turkish drums, including Jon's, have "jingles" inside them, like a small tambourine, combining the doum-tek-ka of drumming with the jangle of a tambourine. Robyn and Jon performed an awesome drum and zills dance solo around chifitelli and Karsilama (Turkish Nines.)
Katarina: One of Robyn's students, Katarina, performed an awesome tribal-style dance that included some incredible back-bends and floor work, with a touch of modern dance movements worked in.
Debbie & Carrie Lynn: Two of Zarifa's students decided just last week they wanted to do a routine for this month's dance. They only practiced three days and performed a flawless variation of a "mirror dance," in which the dancers perform precise isolations and movements to the music.
Julie performed a dance to a long drum solo that included shimmies for almost the entire performance! Whew!
Devi has been a regular at the G Street Community Dance and performed three beautiful solos, one of which the dance jockey just had to join in and add some drum backup. :-)
Raqs Aroosh (Taroob, Devi, Mariel) performed a lively veil and zills dance in perfect sync.
Aiysha Aroosh performed several wonderful veil dances, floating the veils over the dance floor and through the audience like an Autumn breeze.
Dance-Around: At the beginning of the evening, about mid-show, and ending the evening there is a free-for-all period we call "The Dance-Around." The music plays and everyone is invited to the floor for a dance to loosen up or just have fun. It almost seemed (almost!) like the dancers were having the best fun during the dance around, and even many spectators who weren't doing a dance joined in. This always gives musicians, mostly drummers, a chance to come out and play as well!
Arranging the Second Sunday Community Dance is a bit of work, lugging the equipment to the G Street Bar & Grill on our day off, but at the end of the evening, it's always worth it. We're looking forward to next month's Second Sunday as well as all the months in the coming year.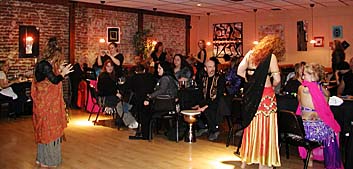 Full house again tonight!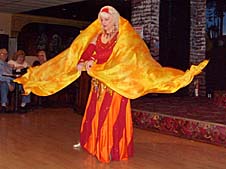 Aiysha Aroosh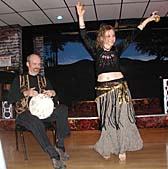 Jon & Robyn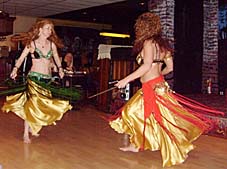 Zarifa and Alisha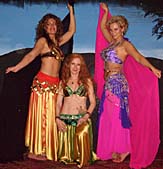 Alisha, Zarifa and Carrie Lynn
If you like the costumes shown by Alisha, Carrie Lynn, Zarifa, Debbie, and Kat, these were made with items in Zarifa's Store - have a look!
Second Sunday of Every Month, 5-7 PM
SPECIAL THANKS TO THE G STREET BAR AND GRILL
---
Zarifa's Touch of Egypt · Boise, Idaho 83646 · Contact