Community Belly Dance - 04-08 - Zarifa's Events
SEE THE VIDEO
April 2008 Community Dance

April 13, 2008 In accordance with the Spring, a time of renewal, rebirth, and regeneration, Zarifa's Community Dance saw new dancers, new costumes, and new routines.
The evening started off with Ayesha Aroosh performing a dance to the Mambo, joining in with the waiter who crossed the floor. Raqs Aroosh practiced a new veil routine dance, lively and sophisticated with many new moves and cross steps.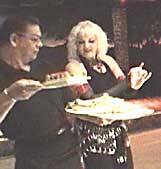 Ayesha Aroosh and Waiter!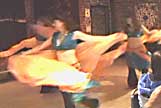 Raqs Aroosh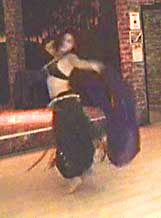 Melanie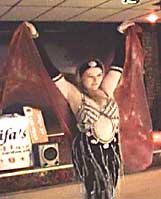 Devi Safir
Melanie, our videographer from last month, performed her first solo dance in public. She completely choreographed her own routine and it was a great first dance! Melanie dedicated her dance to her mother who recently passed away; she wanted to get the chance to see Mel dance and we know she's watching.
One of the evening's highlights was Zarifa and four of her students dancing a routine to "Like a Belly Dancer." The five of them danced in sync in a row, then at the end formed a circle in which each dancer moved to the front.
Sunda danced what appeared to be a gentle and graceful veil dance, but in the middle suddenly changed pace. Preambled by Monty Python's "And now, for something completely different" - the stomping bass drum kicked in and led to none other than Black Sabbath's "Iron Man!" It was very well done, Ozzie would be proud!
After a costume change, Devi performed a slower dance, also something new, and sported a new full length dance costume she picked up at this year's Rakassah.
Zarifa and her drummer (known only as "Anubis") performed a tabla solo, based on the solos made famous by B.D.S.S.'s Issam Hussein.
Another interesting break from the norm was Chiana's interpretation of Devo's "Whip It." At Zarifa's Community Dance, it's all about fun, there are no rules to the dance or music, and these are all welcome performances.
The evening was finished up with a sensuous dance by Carrie Lynn to a hip-hop song, working in serious back-bends and arm movements.
A special thanks goes out to all the dancers who regularly attend Zarifa's Community Dance, it's all about you and Zarifa is glad to make it happen!
NEXT MONTH: It's Mother's Day again and we have already heard rumors of mother and daughter dances, as well as mothers coming to watch. What a great gift for mom, dinner at the G Street Bar and Grill and a dance show! See you all in May!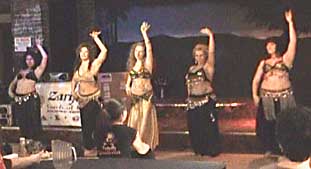 Mel, Alisha, Zarifa, Carrie Lynn, and Sunda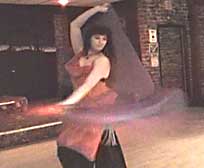 Sunda
Second Sunday of alternating months, 5-7 PM
SPECIAL THANKS TO THE G STREET BAR AND GRILL
---
Zarifa's Touch of Egypt · Boise, Idaho 83646 · Contact