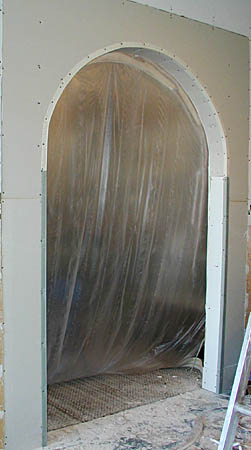 Dance Studio Expansion, June 11 2006 - Grants Pass, Oregon
Zarifa's is Expanding
Timing is everything. Zarifa's neighboring business is relocating just as Zarifa's is growing, presenting perfect opportunity for expansion. At the request of many of Zarifa's customers, she will soon begin offering belly dancing classes and workshops in her new dance studio adjacent to the current metaphysical store.
The 300 square foot suite next to Zarifa's store is a perfect starting point to offer beginning belly dancing classes and workshops, and allow her to move some of the belly dancing supplies out of the main store to make room for current inventory. She began remodeling this weekend, removing the aged and damaged wainscoting paneling from the entire room and adding a beautiful arched doorway between the suites. The completed studio will have new flooring and a crisp bright look with the same Egyptian motifs as her current store.
The pictures below are of Sunday's progress, we will be finishing out the arch and painting Monday the 12th and begin adding the flooring early next week. Watch this page for developments as they progress!
06-15 Update: As you can see the floor is in, we'll be ready for classes for next month!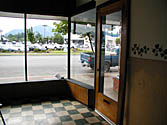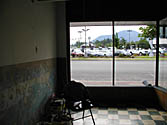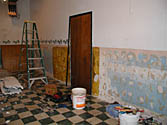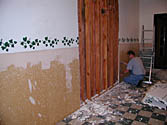 Remember these dismal "before pictures!" By next week this dark, sad suite will be transformed into a bright new dance studio with new flooring and lighting.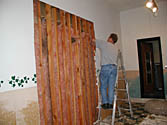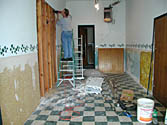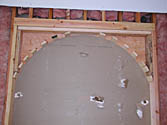 A unique approach was used to install this arch: the header and pre-assembled arch stringers where installed from the new studio side only, leaving the store side sealed up until the construction was complete. This allowed us to cut the opening at the last minute, sparing the store stock from being completely covered in sheetrock dust!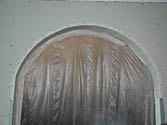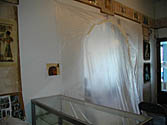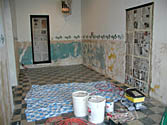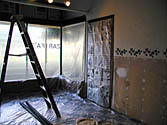 Sponge down the patches, dropcloth the floor, mask the doors, we're prepped to paint. The lower walls were a mishmash of glue spots, contact cement, and raw concrete walls.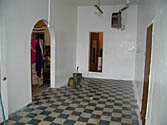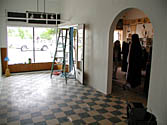 It's amazing how much brighter the studio is looking with a little white paint! Barely any touch-up on the store side of the arch.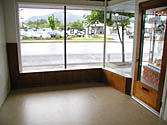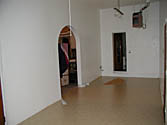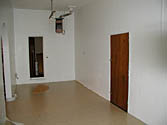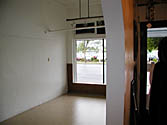 Compare the first one with the first picture above. We chose a speckled sand-colored finish to match the column wall motifs we'll be adding later. We just need to let the glue dry, add the cove base moulding, and it's good to go - classes start next month!
---
Zarifa's Touch of Egypt · Boise, Idaho 83646 · Contact