Zarifa's Events - Christmas 2005, Grants Pass, Oregon
Christmas Season 2005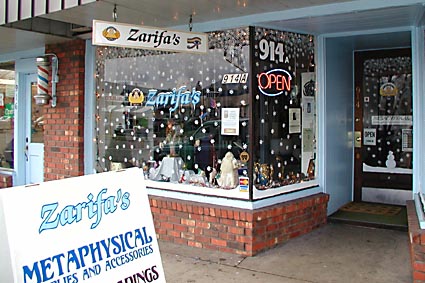 Zarifa's Touch of Egypt is ready for the Christmas season with a new group of hanging and sitting fairies, new tarot decks, books, specialty clothing, and many other new items in her store, and nearly all of them are available from her new online store that offers easy and secure shopping from this website.
Many of Zarifa's customers exercise alternative worship and don't participate in this Christian holiday, but it's one of Zarifa's favorite holidays (second only to Halloween!) Displayed in her main window are a few of her fairies which would be a great gift for a friend or relative of any denomination.
Zarifa wishes you all the happiest of holidays and is forever grateful for the support you have offered throughout her first year. Here's to many more to come!
Potato-stamp snowflakes, icicles, and a lone snowman adorn Zarifa's display windows this season.
Click the above pictures for an enlargement.