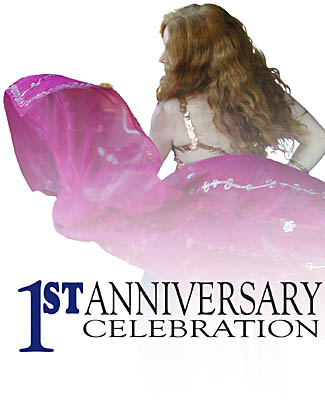 Zarifa's First Anniversary, April 15, 2006 - Grants Pass, Oregon
First Anniversary Celebration
Zarifa invites you to her shop's first anniversary this Saturday, April 15, 2006 for belly dancing and drumming performances, a free meditation workshop, special guest appearances, and a few other surprises that aren't confirmed at the time of this announcement. Enter your name in the drawing for one prize per hour! (Up to $25 value, one entry per person.)
On April 16, 2005, Zarifa officially opened the doors to her metaphysical shop at 914 SW 6th Street in Grants Pass, Oregon. The grand opening was preceded by weeks of preparation, stocking store inventory at her home until she was able to take possession of the store. After long hours of cleaning, painting, sign painting, designing and printing business cards, advertising, and setting up the store, she stood back and said, "we're going to need more inventory!"
Little did she know what an understatement that was. By January 2006, her online store was fully developed and live, and orders started coming in at a rate five times what she expected. She can only attribute the success to finding the best items possible at prices everyone can afford.
Most new business owners plan on a loss for ar least six to twelve months of the first year in business. In the first year, Zarifa's broke even 10 out of 12 months, and even profited in a couple months (She has yet to write herself a check! -- Z's husband.) To date, all of the income from the store has gone right back into inventory to bring you the best selections of hand-chosen Egyptian decor, metaphysical supplies, fairies, belly dancing accessories, and other items.
During January 2006, she began marketing her website and developing a business networking program. Although she missed the Christmas shopping season in 2005, by February, web traffic had grown by five times previous months, and internet orders began coming in quickly.
On March 16, 2006, Zarifa applied for a U.S. trademark on her logo and the words "Touch of Egypt," currently under review (trademark pending.)
All in all it's been a very successful first year, and Zarifa has her customers and patrons to thank for that. To all of you who have shopped at Zarifa's, THANK YOU for helping make the first year a great one, and look forward to seeing you again soon!
Then . . .

Some pictures taken just before opening Zarifa's Touch of Egypt.

Gathering stock and preparing before moving into the store, and the first look.

Painting signs, moving in, the first inventory of belly dancing clothes and accessories, metaphysical supplies, candles, and mirrors hung for dancing classes.

. . . and Now

Pictures taken a few weeks ago to compare with the grand opening.

From the main entrance, the smell of Crystal Journey reiki candles, incense, unique chimes, Egyptian Decor, tapestries, veils, and belly dancing clothes and accessories greet you, and the walls are painted with faux Egyptian columns and decorated with Egyptian motifs on genuine papyrus.

Zarifa never expected such a demand for hard-to-find metaphysical books and other specialties. The dancing mirrors had to go and were replaced with shelves to display store items. Since it's been asked many times, we're going to mention it here - the hookah is for display only. :-)

Reiki-charged Crystal Journey pillar and votive candles have been a constant item all year, as well as small ritual candles and holders. Everyone loves the mannequin.
To all Zarifa's customers and patrons . . .
Thank You!
It wouldn't have been possible without you!
---
Zarifa's Touch of Egypt · Boise, Idaho 83646 · Contact