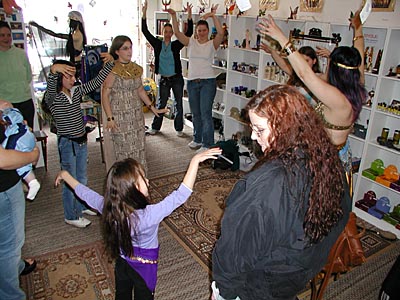 First Anniversary Celebration Pictures, April 15, 2006 - Grants Pass, Oregon
First Anniversary Pictures and Winners
Zarifa's Touch of Egypt celebrated the first anniversary of the store's opening on Saturday, April 15, 2006. Although a hard April rain kept everyone inside the store, visitors were greeted with refreshments, belly dancing and drumming performances, and dancing instruction extending throughout the day. Six lucky winners received one prize per hour from Zarifa's inventory. Thank you to everyone who stopped by, Zarifa is looking forward to many more years bringing you the best selections of hand-chosen Egyptian Decor, metaphysical supplies, fairies, belly dancing accessories, and other items.
Dancing and Musical Performances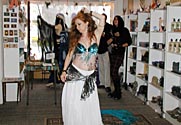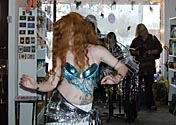 Special thanks to Chris Burbick, who laid down the rhythm for Zarifa and Christine Amato.
Prize Winners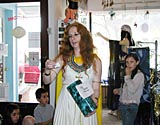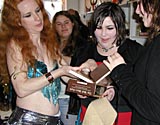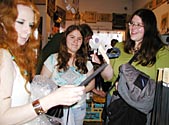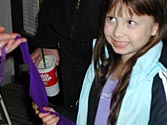 Gifts presented to lucky winners were a Gargoyle candle holder, dragon incense holder and Dragon's Blood incense, coined hip scarf, head scarf, Well-Worn Path tarot deck, and an Egyptian Scarab box. Winners were Chis Burbick, Cassandra Deardorff, Cassandre Netherish, Cecilia Glmenez, Laurelle Steele, and a very young upcoming dancer, Cassandra!
Dance Lessons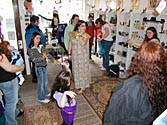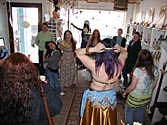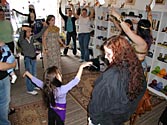 Dancing naturally leads to showing some of the visitors some moves!
To all Zarifa's customers and patrons . . .
Thank You!
It wouldn't have been possible without you!
---
Zarifa's Touch of Egypt · Boise, Idaho 83646 · Contact