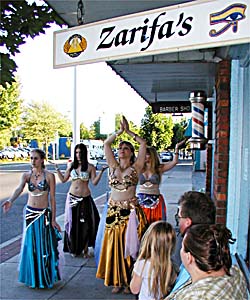 The Grants Pass First Friday Art Night is held the First Friday of each summer month in Grants Pass. Participating downtown businesses stay open after hours with local artwork on display and most offer refreshments.
For July's First Friday Zarifa's and Treasure Trove woke up the otherwise dull south end of sixth street, Grants Pass: Zarifa's students performed Egyptian style belly dancing routines in front of the store, followed by a rockin' evening with Blind & Crazy, one of the hottest local bands, on special invitation by Wendy King of the Treasure Trove. A big THANK YOU to B & C and everyone who stopped by. Zarifa is looking forward to seeing those of you who asked her about her Thursday evening belly dancing classes.
Free Drawing
A free drawing was held for the winner's choice of a hip scarf or tarot reading, a $25 value. Zarifa drew the name at the end of the evening, and the lucky winner was Terry Holman. Congratulations Terry!
First Friday Pictures

Click any picture for an enlargement

Zarifa starts off First Friday with a veil dance . . .

Zarifa's students have been only working on their routine for three weeks and had it down!

Quite a crowd gathered to watch the dance, a great time was had by all!

A BIG THANKS to Blind & Crazy for spending the evening with us, rockin' 6th street with George Thorogood, The Doors, and a few of their own tunes. Watch for these guys, they're really good!

"I just don't have the hips for the dancing any more, but I'm still good for a pat on the head." - Fred, master of Wendy of the Treasure Trove, next door to Zarifa's

NEXT MONTH:

Zarifa will be displaying and have available for sale hand-painted artwork on genuine papyrus, and of course there will always be dancing! Watch this events page for pictures and information on next month's First Friday Art Night!
---
Zarifa's Touch of Egypt · Boise, Idaho 83646 · Contact