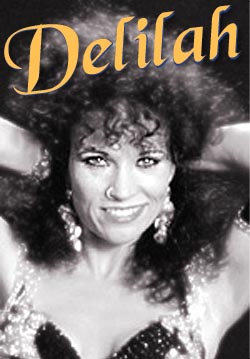 Zarifa's Events - April 12, 2007 - Grants Pass, Oregon
Second Anniversary Celebration
Thursday April 12 - 4-9 PM
This year we decided we needed something big - something REALLY big - to mark the festivities of the second anniversary of Zarifa's. We're pleased to announce we've scheduled a visit from a VERY special guest at Zarifa's second anniversary celebration, one who needs no introduction - the legendary belly dance star, visionary, and Zarifa's mentor, DELILAH!
Delilah is a legendary visionary belly dancer and teacher, famous for inspiring vision, thought, and pioneering efforts including award-winning performances in American classic belly dance, Goddess dance, and many other styles. Delilah has authored a cornerstone video series entitled "Delilah's Belly Dance Workshops&quot, produces the original Power Belly Weight Belts for belly dance training, and holds an annual 10 day Hawaiian Belly Dance retreat. Delilah currently lives in Washington, manages VDP Studios, and holds many events and public dance projects such as the Billion Belly March in the Fremont's Summer Solstice Parade this June. Learn more about Delilah at her website, Belly Dancing with Delilah.
Zarifa invites you to join us in giving her a warm welcome at our upcoming second anniversary celebration, Thursday, April 12, 2007, 4-9 PM. See the TV commercial here.
Zarifa's Touch of Egypt will have belly dancers, musicians, door prizes, and other surprises at this year's anniversary celebration, but one of the highlights is definately going to be local fire dancing artist, Savannah Fyre. Savannah has lived in Southern Oregon most of her life and crossed paths with Zarifa just a few weeks ago. Her performance is nothing short of amazing - see a short preview in the television commercial here.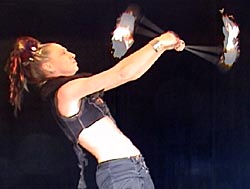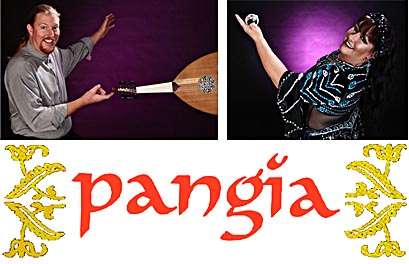 Zarifa enjoyed the performance of Mount Shasta artists Pangia at this year's Rakkasah West. Pangia has graciously accepted Zarifa's invitation to play for her second anniversary celebration, thank you for joining us!
Founding members Pat Olsen and Denise have been performing Middle Eastern style music nationally and internationally for over seven years and have cut five albums so far. Learn more about PANGIA at their web site, pangiaraks.com.
More surprises to be announced in the coming weeks as the celebration approaches, it's sizing up to be an awesome party!
Although Zarifa officially opened the doors to her metaphysical shop at 914 SW 6th Street in Grants Pass, Oregon on April 16, 2005, we have set the celebration to April 12th this year to accommodate Delilah's busy schedule. We plan on extending the second anniversary celebration well into Thursday evening and will include many other events and activities throughout the evening.
Zarifa's first year was surprisingly successful, but 2006 has proven to be a benchmark year for Zarifa's. She has come to understand her customers well and has adjusted her products and services to better meet your demands.
To all Zarifa's customers and patrons . . .
Thank You!
It wouldn't have been possible without you!
---
Zarifa's Touch of Egypt · Boise, Idaho 83646 · Contact