Community Belly Dance 10-21-07 - Zarifa's Events
SEE THE VIDEO
October 2007 Community Belly Dance

October 21, 2007 - Zarifa has to take a flight to San Diego on this month's second Sunday so the Community Belly Dance was moved to the third Sunday in October.
This moved the dance closer to Zarifa's favorite holiday, Halloween, and in celebration she offered up a dance for the holiday, a tribal style Halloween Dance to Godsmack's "Voodoo." "You're scaring the children!"
Once again the house was full, bringing the Rogue Gypsy's students of Ayesha, and many others including visitors from Yreka, CA, who said they'd be back to dance some month - we're holding you to it!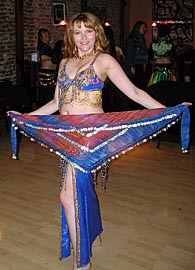 A surprise drawing of a tie dyed coin hip scarf from Zarifa's store was drawn at the end of the evening and the winner was one of the regulars - Devi. We couldn't think of a more deserving recipient, Devi always shows up and is a great asset to the community.
Second Sunday of alternating months, 5-7 PM
SPECIAL THANKS TO THE G STREET BAR AND GRILL
---
Zarifa's Touch of Egypt · Boise, Idaho 83646 · Contact