Community Belly Dance 11-07 - Zarifa's Events
SEE THE VIDEO
November 2007 Community Dance

November 11, 2007 - A full house again this month with some familiar faces as well as new dancers from as far away as Yreka, CA, Zarifa's Community Dance at the G Street Bar and Grill brought a wide mix of dance styles and fun for all.
Devi performed two beautiful Hula dances, and Maia shook it up with a hula hoop dance. A big thank you to Emily, Kat, Angela, Sahaya, Ayisha Aroosh, Aysha, Mariana, and anyone else we've forgotten here - the evening was full and unfortunately we even had to turn away a few requests at the end. Our hosts, the G Street Bar and Grill, like to close down on schedule and we can't run past 7 PM.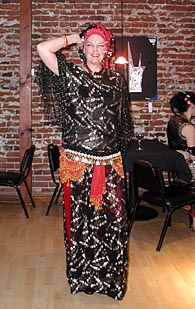 This month's surprise drawing was for one of these hand -made macrame coin belts with shells and the lucky winner was Aisha Aroosh of Grants Pass, one of the local dance instructors.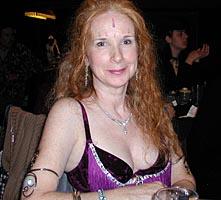 Zarifa
Devi
Second Sunday of alternating months, 5-7 PM
SPECIAL THANKS TO THE G STREET BAR AND GRILL
---
Zarifa's Touch of Egypt · Boise, Idaho 83646 · Contact